Is "Content Marketing" Really New?
Content marketing is the hottest area in digital marketing right now. But what is it?
"Marketing" is communication with the intent to persuade and bring about a sale.
"Content marketing" is marketing that uses content to persuade.
"Content" includes:
Videos
Blog posts
eBooks
Webinars
Whitepapers
Research reports
Infographics
Podcasts
Slide decks
"Content marketing" is the use of content to persuade people to buy stuff.
"Social media" always uses content (media is a synonym for content).
"Social networking" can be simply interaction without content (media).
You might say, "Wow, so content marketing is pretty much everything except verbal sales?"
I'd reply, "Yep, content marketing is a new name for most of what we've done as marketing for years. Old practice, new name. Sure, blogs are newish. And using Facebook ads and an ebook as social content marketing is pretty new. But it's still essentially the same thing as mailing a brochure or writing a book."
"Advertising an ebook?" you'd ask.
"New way to do the same thing," I'd reply. "We're just distributing marketing material to prospects."
What's new is that the Internet empowers us to:
Target prospects precisely. Both Google AdWords and Facebook Ads have dramatically advanced our abilities here.
Track their behavior after they click on ads, email links and social media posts. Use an analytics package like Google Analytics and a CRM like Salesforce to do this.
Follow-up with them in an automated, yet personalized fashion. Marketing automation software like Infusionsoft, Eloqua and Marketo do this.
The point of targeting, tracking and follow-up is to get more customers in a more efficient way at a lower cost.
Improved targeting means we waste less time with the wrong prospects.
We save time and money.
Improved tracking means we learn what works and what doesn't. We only continue with the most efficient strategies, content, target groups and advertisements.
We save money and increase profit.
Improved follow-up means we convert a higher percentage of the prospects we paid to get as leads.
We get more customers and increase profit and revenue.
The content marketing moves people down the funnel toward purchase. It can also filter out the wrong prospects for us. Any content marketing piece may only work at one segment of the funnel. Or it may work on multiple segments. And that's as far as we can go without getting complicated!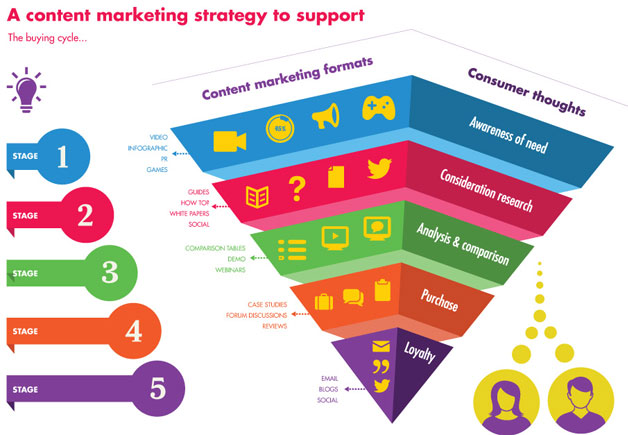 Amazing funnel graphic from Adido! :-)
Brian Carter is a popular business expert and keynote speaker with Fortune 500 clients like NBC, Microsoft and Humana as well as small businesses. He delivers motivational keynotes with practical takeaways with the comedic flair of his stand up comedy background. His agency, The Brian Carter Group, creates marketing that excites customers and increases brand visibility, sales and loyalty. Brian is a bestselling author you've probably seen on Bloomberg TV or in Inc, Entrepreneur, The Wall Street Journal or The New York Times. He has over 250,000 online fans and reaches over 3 million people per year.
https://briancartergroup.com/wp-content/uploads/2015/02/content-marketing-strategy-to-support-the-buying-cycle.jpg
435
628
Brian Carter
https://briancartergroup.com/wp-content/uploads/2020/08/BCGz-logo-black-horz-339x113-IMStag-1.gif
Brian Carter
2015-02-13 02:45:57
2020-07-21 18:24:22
Is "Content Marketing" Really New?