5 Quick Tips To Get More Out of Your Facebook Posts
Are you posting on Facebook, but not getting enough out of it?
Want more brand exposure? More interaction? More website traffic?
Then you'll enjoy these 5 quick tips!
Facebook Post Tip #1: To Get More of EVERYTHING…
Run ads. And I don't mean boost posts.
Get into the Facebook Ad Manager and create post promo ads to show your posts to more people.
If no one sees them, no one interacts, no one clicks, nothing else happens!
The main benefit of running post promo ads from Ad Manager is that you'll learn how to get really affordable exposure and interaction, especially when you do the rest of these tips.
And another benefit is that you'll be creating cool engagement audiences that you can later retarget to, and retargeting audiences are great for driving lead and sales!
Facebook Post Tip #2: To REACH More People…
Great news! As of September 2020, Facebook has rescinded its 20% text rule, as we originally outlined below. With that said, it's smart to be judicious about your text-to-image ratio in order to create images that are pleasing to the user's eye.
If you run ads but your post images have too much text, Facebook won't show your post to as many people.
Once again, if you don't reach enough people, not much happens…
Facebook has a thing they call the 20% rule.
The 20% rule is: you can't have text in more than 5 out of 25 rectangles in a 5×5 grid placed over your image
So follow the 20% rule, reduce text in your images and you'll reach more people!
Use this tool to check your images before your post.
Facebook Post Tip #3: To Get More ENGAGEMENT…
How do you stop the scroll?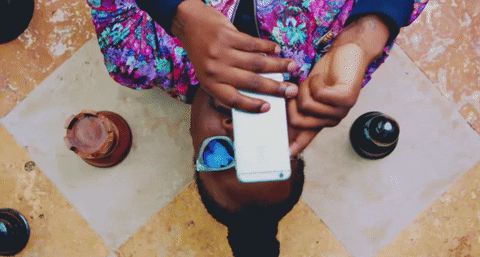 Grab the attention?
Get them to care?
This is a huge topic worthy of at least an entire book.
And it's not just the concern of social media people- it's something that musicians, artists, storytellers, advertisers…
All kinds of people want to grab attention and make people care.
But the short answer, based on our landmark Contagious Content study is that
You should have AT LEAST ONE of the following in EVERY post:
Humor
How-To Advice
Amazing Stuff
Generosity & Offers
Inspiration
Warnings
Facebook Post Tip #4: To Get More CLICKS and Website TRAFFIC…
Make sure you have a website link in your post.
If there's no link, how will they get to your website?
Do you really think they're going to…
Click on your Facebook page name and
Find your "About us" and
Find the website link and then finally
Click on that?
No way! That's three or four extra steps you made them do! Most people are already on to something else in their life and you lost them!
So, put a link in every post, if you want traffic!
Also, BONUS TIP: watch your link clickthrough-rate.

Look at your reports (either export your posts from Page Insights or even better, if you're running post promo ads, look at your Ad Manager data) to see which posts get the highest link-CTR. These are the ones that drive traffic, not just engagement. Learn from this!
Facebook Post Tip #5: To Get More BLOG READERS…
This is an advanced one.
It's a combination of 3 and 4.
You have to have a website link in your Facebook post, of course, or how will they find the blog post?
And you can't be boring.
Your post has to grab attention or they'll never stop long enough to consider reading your blog post.
No matter how interesting you think your blog post is…
And no matter how much time you spent writing it and editing it and making it awesome…
Your work isn't done yet. Now you have to sell it!
The same way you have to write a good blog post title to get people to care, if you're posting in social media or creating an ad about a blog post or both, you have to sell the sizzle about that post.
You might have already put some of that sizzle into your blog post title.
But in a Facebook post, you need an image or a video.
So if you just finished your blog post, you might want to take a break, because you need some creative energy now for the Facebook post.
Do you already have an engaging or funny or interesting image or video for it?
Or do you need to find one?
Go back to tip #3 on ENGAGEMENT and think about which of those SIX AWESOME THINGS you can use that fits your blog post.
Then you're done!
:-)
Brian Carter is a popular business expert and keynote speaker with Fortune 500 clients like NBC, Microsoft and Humana as well as small businesses. He delivers motivational keynotes with practical takeaways with the comedic flair of his stand up comedy background. His agency, The Brian Carter Group, creates marketing that excites customers and increases brand visibility, sales and loyalty. Brian is a bestselling author you've probably seen on Bloomberg TV or in Inc, Entrepreneur, The Wall Street Journal or The New York Times. He has over 250,000 online fans and reaches over 3 million people per year.
https://briancartergroup.com/wp-content/uploads/2018/06/facebook_like_thumb.jpg
1713
2000
Brian Carter
https://briancartergroup.com/wp-content/uploads/2020/08/BCGz-logo-black-horz-339x113-IMStag-1.gif
Brian Carter
2018-06-20 22:35:10
2020-04-27 18:59:24
5 Quick Tips To Get More Out of Your Facebook Posts